As I begin to set intentions for 2021, I'm reflecting on my spiritual journey this year and over the last few years.  One theme arising is the awareness of where my own heart has been tight, cold and locked up. At times in meditation, it has felt like a bicycle cable lock has been wrapped around my heart tightly.  I've needed just the right meditation practices, teachings and conditions to help me remember the correct number combination to unlock the chain. Only then could the cable begin to unwind so my heart could bloom and expand.  We never know exactly what conditions will allow this growth and blooming to occur.  In my own experience, there hasn't been one bursting expansion, but instead many small moments of planting seeds, softening and blooming stimulated by beautiful metta, compassion and joy practices.  The freeness of my own heart has also been touched by time in nature and chance encounters with beautiful humans on the path.
I was revisiting some journals and came across this unnamed poem from several years ago. It feels like the right time to share, and I've now named it, "The Blooming Heart."
---
The Blooming Heart
What is this foreign feeling?
It feels like a rapid pounding in the body.
My ears hear it. I sense it.
It's not music, not a drum.
Surely everyone else hears it too as it pulses and beats against the wall of my chest like a butterfly pushing against the walls of a cocoon …
Ready to break free, transformed, never the same.
My heart! It is in here!
Feeling the flutter of excitement and eagerness for the partnering with another.
Joining of hearts on a journey side by side.
Witnessed by each other in our life's joys and sorrows without masks.
It's all okay my tender heart,
Love blooms over time.
Just like the gradual growing of the new moon to a full moon,
Glowing brighter until its presence is undeniable in the wide sky.
Be patient and aware of the small shifts.
Savor them all.
Written by: Melanie Pensak
---
In conclusion, I'd love to share with you the work of Lyndsey in Auburn, California. Her artwork is beautiful and inspiring. This year I've purchased a blooming heart print from her to remind me of this capacity of the heart to meet each moment with kindness, compassion and love. Check out her work in her Etsy shop when she returns from break in 2021 at Fully Fernished.
Also, on IG @fully.fernished.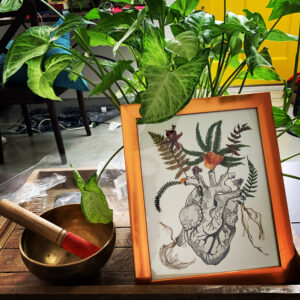 #supportwomen #supportsmallbusiness